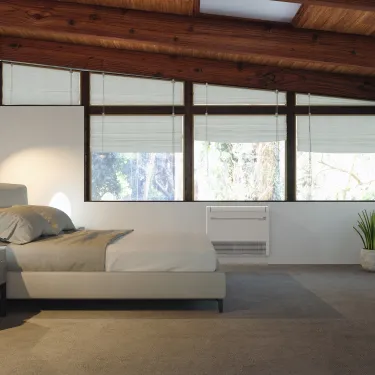 What is an
Floor-Mounted Indoor Unit?

The MFZ-KJ Floor-Mounted Indoor Unit features a fast heating capability that quickly warms an area to the selected temperature. A multi-flow vane circulates airflow throughout the space, controlling your ideal temperature. This floor-mounted heat pump can solve hot or cool spots with single-zone or multiple-zone applications.
A single-zone system is perfect for open-plan spaces, additions, finished attics, and rooms in your home that are not connected to your home's existing central heating and cooling system.
The floor-mounted design means this unit sits near the floor, close to the base of your wall. The floor-mounted heat pump can be partially recessed to ensure a sleek, seamless finish. Are you ready to add ductless air conditioning to your home this year? Sign up for a free heat pump estimate with 412 Ductless.

SLEEK AND MODERN DUCTLESS HEAT PUMP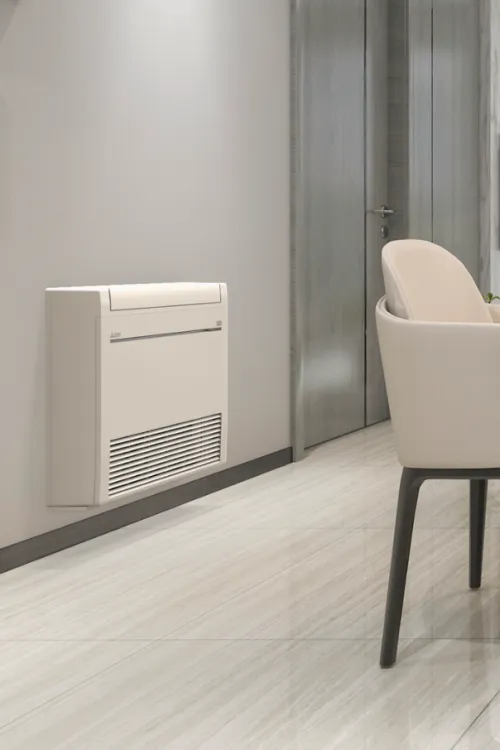 KJ MULTI-FLOW VANE
The KJ multi-flow van function moves upward and downward, evenly distributing warm or cold air efficiently.

ENDLESS COMFORT OPTIONS
WITH MINI-SPLIT SYSTEMS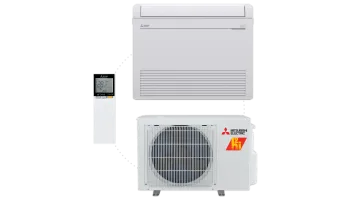 EXPLORE ALL-ELECTRIC HVAC
Floor-Mounted Heat Pump
If you are looking for an energy-efficient, sleek, and convenient way to air condition or heat your home, the MFZ-KJ Floor-Mounted Indoor Unit can help you achieve your ideal comfort level. Contact your Pittsburgh ductless company to consult whether or not this is your home's individualized heating and cooling solution to combat your cold or hot spot challenges.
At 412 Ductless, we are an Elite Dimond Contractor, the highest level of contractor certification for Mitsubishi Electric Heating & Air Conditioning. We can assist you in designing your home's ideal heating and cooling system to maximize home comfort and efficiency.

Frequently Asked Questions
When should you select a floor-mounted ductless air handler?

An essential thing to know regarding floor-mounted air handlers is when to install one in your residence. There are multiple examples where it may be practical for a homeowner to opt for a floor-mounted ductless air handler. For instance, they are perfect for areas with little wall space, such as lower ceilings or high windows. Floor-mounted ductless systems are also an excellent option for rooms with sloping ceilings, such as attic bedrooms or a top-floor work-from-home office where wall-mounted systems aren't feasible.

MAXIMIZE TEMPERATURE CONTROL
MFZ-KJ FLOOR-MOUNTED INDOOR UNIT
The MFZ-KJ FLOOR-MOUNTED indoor unit can be a single or multi-split heat pump system personalized to your preferred temperature.

FEATURES
Multi-Flow Vanes

Featuring Heating Ultra Start

Swing Fan
Econo Cool